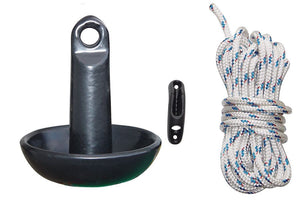 Anchor Kit (mushroom anchor with cleat)
Sea Eagle
Regular price $49.00 Sale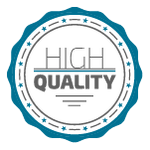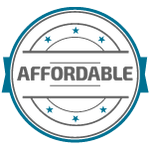 With the Sea Eagle Kayak Anchor Kit with cleat you can be sure that your boat does not drift too far. It includes an 8-pound PVC-coated mushroom anchor that offers plenty of holding power, plus 25-feet of high-strength rope and a cleat.

The cleat allow you to tie off just the right amount of rope you need for a specific anchoring application. For example if you have 25 foot of rope but you are only in 5 foot deep water you can drop your anchor and let out a total of about 10 foot of rope and secure the rope at the cleat by passing it through the cleat that will bite down on the rope. The remaining 15 foot of slack in the rope will stay in the boat unused.  

Without a cleat the boat would continue to drift from your desired spot until it used up that 15 foot of excess slack in the rope and you will find out you are far from your desired spot. Anchors and cleats are a must if you intend to fish from your boat.  
The 8 pound anchor is the perfect size for numerous inflatables, including just about everything we sell on our site including but not limited to Explorer FastTrack and Sport Kayaks, the PaddleSki Catamaran, the Travel Canoe, and a variety of motor-mount boats, as well as Saturn Boats, and Crystal Kayaks, and similar kayaks and inflatables from all other manufacturers.